Prerequisites
The Node-RED DXL client configuration step has been completed (see Client Configuration).
The DXL fabric to which the Node-RED DXL client will connect has been bridged to Cisco pxGrid.
An ePO DXL service is running and available on the DXL fabric. If version 5.0 or later of the DXL ePO extensions are installed on your ePO server, an ePO DXL service should already be running on the fabric. If you are using an earlier version of the DXL ePO extensions, you can use the ePO DXL Python Service.
The Node-RED DXL client is authorized to perform the apply tag, clear tag, and find system operations within ePO (see Client Authorization).
The Node-RED DXL client is authorized to perform DXL Cisco pxGrid Queries (see Authorize Client to Use Cisco pxGrid via DXL)
The following Node-RED modules have been installed (Node-RED palette):
Setup
Configure the Configure: ISE Policy to ePO Tag Mapping node. This node contains a mapping that maps between the ISE policy name and the corresponding tag name within ePO (see below).
This mapping should be updated to reflect your Cisco ISE ANC policy names and corresponding tag names within ePO. Each of the ePO tag names must be created within ePO (they are not automatically created).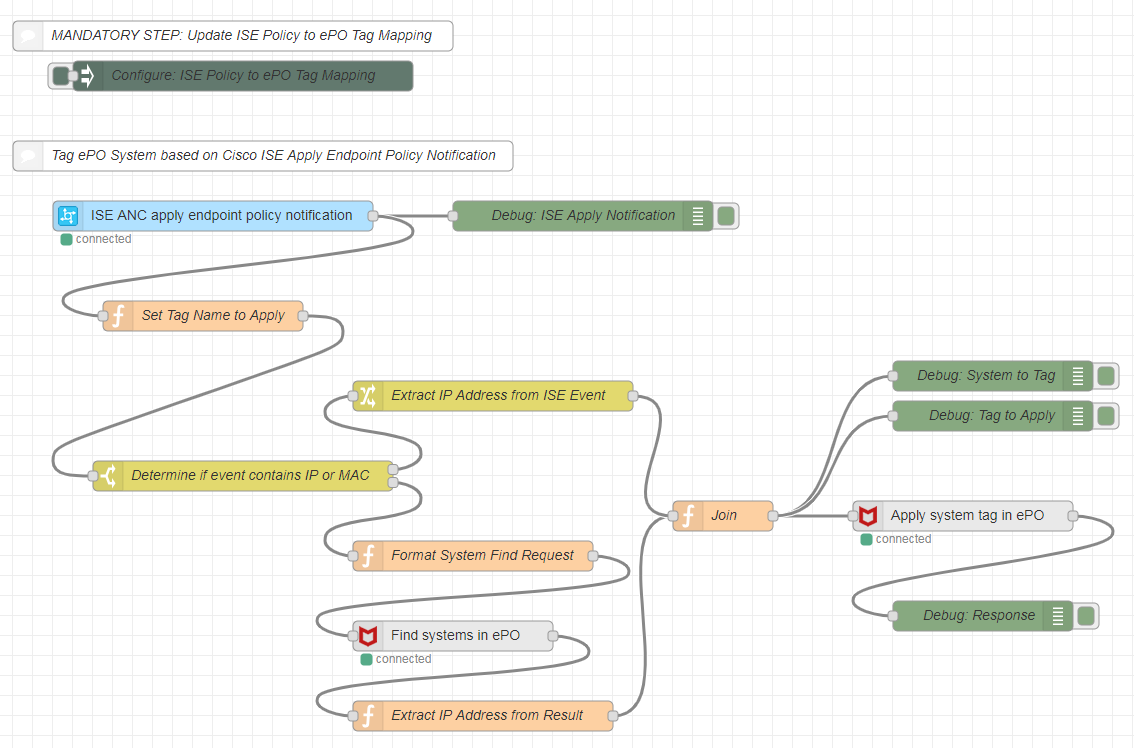 The Node-RED flow content for this solution: